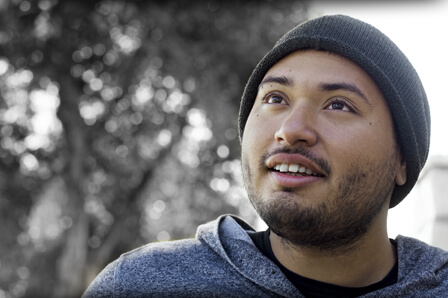 Actor portrayal
Dosing to clinical effectiveness
The National Institute on Drug Abuse recommends that opioid dependence treatment be individualized to meet the needs of each patient.1 ZUBSOLV allows Healthcare providers the flexibility to dose up or down to clinical effectiveness at any time, for any reason.2 Compared to other buprenorphine/naloxone medications, ZUBSOLV offers patients2,3:
Widest dosage range with 6 dosage strengths
Lowest available dosage (0.7 mg/0.18 mg)
When Prescribing ZUBSOLV2:
Prior to induction, consideration should be given to the type of opioid dependence, i.e., long- or short-acting opioid products, the time since last opioid use, and the degree or level of opioid dependence. Induction with ZUBSOLV is not appropriate for all patients
The recommended target maintenance dose of ZUBSOLV is 11.4 mg/2.9 mg (buprenorphine/naloxone) administered as a single daily dose
For patients being switched between ZUBSOLV sublingual tablets and other buprenorphine/naloxone products dosage adjustments may be necessary. Patients should be monitored for over-medication as well as withdrawal or other signs of under-dosing
Refer patients to dental care services and encourage them to have regular dental checkups while taking ZUBSOLV. Instruct patients to inform their dentist that they have started therapy on ZUBSOLV
The dosage of ZUBSOLV from Day 3 onwards should be progressively adjusted in increments/decrements of 2.9 mg/0.71 mg or lower of buprenorphine/naloxone to a level that holds the patient in treatment and suppresses opioid withdrawal signs and symptoms
The maintenance dose of ZUBSOLV is generally in the range of 2.9 mg/0.71 mg to 17.2 mg/4.2 mg per day depending on the individual patient and clinical response
Dosages higher than 17.2 mg/4.2 mg per day have not been demonstrated to provide any clinical advantage
When determining the prescription quantity for unsupervised administration, consider the patient's level of stability, the security of his or her home situation, and other factors likely to affect the ability to manage supplies of take-home medication
There is no maximum recommended duration of maintenance treatment. Patient may require treatment indefinitely and should continue for as long as patients are benefiting and the use of ZUBSOLV contributes to the intended treatment goals
ZUBSOLV offers easy administration

As soon as patients remove their prescribed dose of ZUBSOLV from the blister pack, they should be instructed to4:
Place the tablet under the tongue. If more than 1 tablet is required, tablets should be placed in different places under the tongue at the same time
Allow the tablet to dissolve completely. If patients have dry mouth, instruct them to take a sip of water to moisten it. Water should be spit out or swallowed and hands must be dry before the tablet can be placed under the tongue
Important patient counseling information4
Distribute the ZUBSOLV Medication Guide to your patient
Chewing or swallowing the tablet while it is dissolving will prevent the medication from working as it should
Instruct patients to not eat, drink, or talk while the tablet is dissolving as this can affect how well the medicine in ZUBSOLV is absorbed
If patients miss a dose of ZUBSOLV, they should take their medicine when they remember. If it is almost time for their next dose, advise patients to skip the missed dose and take the next dose at their regular time. Patients should not take 2 doses at the same time unless advised by a healthcare provider
Patients should not stop taking ZUBSOLV suddenly. They could become sick and have withdrawal symptoms because their body has become used to the medicine
If too much ZUBSOLV is taken, advise patients to go to the nearest hospital emergency room right away
References:
National Institute on Drug Abuse. Principles of drug addiction treatment: a research-based guide. 3rd ed. January 2018.
ZUBSOLV [prescribing information]. Morristown, NJ: Orexo US, Inc.; 2022.
Suboxone [prescribing information]. North Chesterfield, VA: Indivior Inc.; 2022.
ZUBSOLV [medication guide]. Morristown, NJ: Orexo US, Inc.; 2022.
Indication
ZUBSOLV® (buprenorphine and naloxone) sublingual tablet (CIII) is indicated for the treatment of opioid dependence. ZUBSOLV should be used as part of a complete treatment plan that includes counseling and psychosocial support.
Important Safety Information
Contraindications
ZUBSOLV is contraindicated in patients with a history of hypersensitivity to buprenorphine or naloxone, as serious adverse reactions, including anaphylactic shock, have been reported.
Warnings and Precautions
Addiction, Abuse, and Misuse

: Buprenorphine can be abused in a similar manner to other opioids. Monitor patients for conditions indicative of diversion or progression of opioid dependence and addictive behaviors. Multiple refills should not be prescribed early in treatment or without appropriate patient follow-up visits.

Risk of Life-Threatening Respiratory and Central Nervous System (CNS) Depression

: Life-threatening respiratory depression and death have occurred in association with buprenorphine use. Warn patients of the potential danger of self-administration of benzodiazepines or other CNS depressants while under treatment with ZUBSOLV.

Patient Access to Naloxone for the Emergency Treatment of Opioid Overdose

: Strongly consider prescribing naloxone for the emergency treatment of opioid overdose, both when initiating and renewing treatment with ZUBSOLV, and consider prescribing naloxone if the patient has household members (including children) or other close contacts at risk for accidental ingestion or opioid overdose.

Advise patients and caregivers that naloxone may also be administered for a known or suspected overdose with ZUBSOLV itself.
Educate patients and caregivers on how to recognize respiratory depression, and if naloxone is prescribed, how to treat with naloxone. Emphasize the importance of calling 911 or getting emergency help, even if naloxone is administered.

Managing Risks from Concomitant Use of Benzodiazepines or Other CNS Depressants

: Concomitant use of buprenorphine and benzodiazepines or other CNS depressants increases the risk of adverse reactions including overdose and death. As a routine part of orientation to buprenorphine treatment, educate patients about the risks of concomitant use of benzodiazepines, sedatives, opioid analgesics, and alcohol. Develop strategies to manage use of prescribed or illicit benzodiazepines or other CNS depressants at initiation of buprenorphine treatment, or if it emerges as a concern during treatment.

Before co-prescribing benzodiazepines, ensure that patients are properly diagnosed and consider alternative treatments to address anxiety or insomnia.
Take measures to confirm that patients are taking their medication as prescribed and are not diverting or supplementing with illicit drugs, including toxicology screening to test for prescribed and illicit benzodiazepines.

Unintentional Pediatric Exposure

: Store ZUBSOLV safely out of the sight and reach of children. Buprenorphine can cause severe, possibly fatal respiratory depression in children.

Neonatal Opioid Withdrawal Syndrome (NOWS)

: Neonatal opioid withdrawal syndrome (NOWS) is an expected and treatable outcome of prolonged use of opioids during pregnancy.

Adrenal Insufficiency

: If diagnosed, treat with physiologic replacement of corticosteroids, and wean patients off of the opioid.

Risk of Opioid Withdrawal with Abrupt Discontinuation

: If treatment is temporarily interrupted or discontinued, monitor patients for withdrawal and treat appropriately.

Risk of Hepatitis; Hepatic Events

: Monitor liver function tests prior to initiation and during treatment and evaluate suspected hepatic events.

Precipitation of Opioid Withdrawal Signs and Symptoms

: An opioid withdrawal syndrome is likely to occur with parenteral misuse of ZUBSOLV by individuals physically dependent on full opioid agonists or by sublingual administration before the agonist effects of other opioids have subsided.

Risk of Overdose in Opioid-Naïve Patients

: ZUBSOLV is not appropriate as an analgesic. There have been reported deaths of opioid-naïve individuals who received a 2-mg sublingual dose of buprenorphine.

Dental Adverse Events

: Cases of dental caries, some severe (i.e., tooth fracture, tooth loss), have been reported following the use of transmucosal buprenorphine-containing products. Educate patients to seek dental care and strategies to maintain or improve oral health while being treated with ZUBSOLV.

QTc Prolongation

: Thorough QT studies with buprenorphine products have demonstrated QT prolongation ≤15 msec. The risk of combining buprenorphine with other QT prolonging agents is not known. Consider these observations in clinical decisions when prescribing ZUBSOLV to patients with QT-related risk factors.
Use in Specific Populations
Lactation

: Buprenorphine passes into mother's milk.

Geriatric Patients

: Monitor for sedation and respiratory depression.

Moderate and Severe Hepatic Impairment

: Buprenorphine/naloxone products are not recommended in patients with severe hepatic impairment and may not be appropriate for patients with moderate hepatic impairment.
Adverse Reactions & Drug Interactions
Adverse events commonly observed with the sublingual administration of ZUBSOLV are headache, nausea, vomiting, hyperhidrosis, constipation, signs and symptoms of withdrawal, insomnia, pain, and peripheral edema.

Benzodiazepines

: Use caution in prescribing ZUBSOLV for patients receiving benzodiazepines or other CNS depressants and warn patients against concomitant self-administration/misuse.

CYP3A4 Inhibitors and Inducers

: Monitor patients starting or ending CYP3A4 inhibitors or inducers for potential over or under dosing.

Antiretrovirals

: Patients who are on chronic buprenorphine treatment should have their dose monitored if NNRTIs are added to their treatment regimen. Monitor patients taking buprenorphine and atazanavir with and without ritonavir, and reduce dose of buprenorphine if warranted.

Serotonergic Drugs

: Concomitant use may result in serotonin syndrome. Discontinue ZUBSOLV if serotonin syndrome is suspected.
This is not a complete list of potential adverse events associated with buprenorphine/naloxone tablets. For additional safety information, please see Full Prescribing Information
ZUBSOLV (buprenorphine and naloxone) sublingual tablet (CIII) is indicated for the treatment of opioid dependence. ZUBSOLV should be used as part of a complete treatment plan that includes counseling and psychosocial support.
Important Safety Information
Contraindications
ZUBSOLV is contraindicated in patients with a history of hypersensitivity to buprenorphine or naloxone, as serious adverse reactions, including anaphylactic shock, have been reported.